Wednesday, September 07, 2005
This was too good of a life lesson not to pass on!A carrot, an egg and a cup of coffee... You willnever look at a cup of coffee the same way again.
A young woman went to her mother and told her about her life and how things were so hard for her. She did not know how she was going to make it and wanted to give up. She was tired of fighting and struggling. It seemed as one problem was solved, a new one arose. Her mother took her to the kitchen. She filled three pots with water and placed each on a high fire. Soonthe pots came to boil. In the first she placedcarrots, in the second she placed eggs, and in the last she placed ground coffee beans. She let them sit and boil, without saying a word.In about twenty minutes she turned off the burners.She fished the carrots out and placed them in a bowl. She pulled the eggs out and placed them in a bowl. Then she ladled the coffee out and placed it in a bowl.Turning to her daughter, she asked, "Tell me, what do you see?""Carrots, eggs, and coffee," she replied. Her mother brought her closer and asked her to feel the carrots. She did and noted that they were soft.The mother then asked the daughter to take an egg and break it. After pulling off the shell, she observedthe hard boiled egg. Finally, the mother asked the daughter to sip the coffee. The daughter smiled as she tasted its rich aroma. The daughter then asked, "What does it mean, mother?"Her mother explained that each of these objects hadfaced the same adversity .. boiling water. Each reacted differently.The carrot went in strong, hard,and unrelenting. However, after being subjected to the boiling water, it softened and became weak. The egg had been fragile. Its thin outer shell had protected its liquid interior, but after sitting through the boiling water, its inside became hardened.The ground coffee beans were unique, however. Afterthey were in the boiling water, they had changed the water."Which are you?" she asked her daughter. "When adversity knocks on your door, how do you respond?Are you a carrot, an egg or a coffee bean?"Think of this: Which am I? Am I the carrot that seems strong, but with pain and adversity do I wilt and become soft and lose my strength?Am I the egg that starts with a malleable heart, butchanges with the heat? Did I have a fluid spirit, butafter a death, a breakup, a financial hardship or some other trial, have I become hardened and stiff? Does myshell look the same, but on the inside am I bitter andtough with a stiff spirit and hardened heart?Or am I like the coffee bean? The bean actuallychanges the hot water, the very circumstance that brings the pain. When the water gets hot, it releasesthe fragrance and flavor. If you are like the bean,w hen things are at their worst, you get better and change the situation around you. When the hour is the darkest and trials are their greatest, do you elevate yourself to another level? How do you handle adversity? Are you a carrot, an egg or a coffee bean?May you have enough happiness to make you sweet, enough trials to make you strong, enough sorrow to keep you human and enough hope to make you happy.The happiest of people don't necessarily have the best of everything; they just make the most ofe verything that comes along their way. The brightest future will always be based on a forgotten past; youcan't go forward in life until you let go of your past failures and heartaches.When you were born, you were crying and everyonearound you was smiling. Live your life so at the end, you're the one who is smiling and every one around you is crying.
You might want to send this message to those people who mean something toyou (I JUST DID); to those who have touched your life in one way or another; to those who make you smile when you really need it; to those who make you see the brighter side of things when you are really down; to those whose friendship you appreciate; to those who are so meaningful in your life.I f you don't send it, you will just miss out on the opportunity to brighten someone's day with this message!"It's easier to build a child than repair an adult"Life-changing events do not happen by accident. They are not determined by the stars. They are not by chance. There is no such thing as chance. TheLord uses every situation in life to accomplish His purposes.
- The Carrot, The Egg and The Coffee Bean
by Gjefferson @ 6:50 AM
Saturday, July 23, 2005
Rules from God
[IMG]http://img.photobucket.com/albums/v313/gj_d_frenchter/ead6070e.gif[/IMG]
1. Wake Up !! Decide to have a good day. "Today is the day the Lord hath made; let us rejoice and be glad in it." Psalms 118:24
2. Dress Up !! The best way to dress up is to put on a smile. A smile is an inexpensive way to improve your looks. "The Lord does not look at the things man looks at. Man looks at outward appearance; but the Lord looks at the heart." I Samuel 16:7
3. Shut Up!! Say nice things and learn to listen. God gave us two ears and one mouth, so He must have meant for us to do twice as much listening as talking. "He who guards his lips guards his soul." Proverbs 13:3
4. Stand Up!!... For what you believe in. Stand for something or you will fall for anything.. "Let us not be weary in doing good; for at the proper time, we will reap a harvest if we do not give up. Therefore, as we have opportunity, let us do good..." Galatians 6:9-10
5. Look Up !!... To the Lord. "I can do everything through Christ who strengthens me." Philippians 4:13
6. Reach Up !!... For something higher. "Trust in the Lord with all your heart, and lean not unto your own understanding. In all your ways, acknowledge Him, and He will direct your path." Proverbs 3:5-6
7. Lift Up !!... Your Prayers. "Do not worry about anything; instead PRAY ABOUT EVERYTHING." Philippians 4:6 Send this to the people you care about. I thought this was very special. Pass this on and brighten someone's day, and remember: God answers Knee-Mail.
-
by Gjefferson @ 8:30 AM
Thursday, July 14, 2005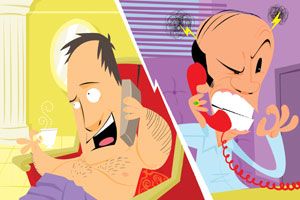 Pedro calls in to work and says, "Hey boss, I cannot come to work today, I'm really sick. I got a headache, a stomach ache, and my legs hurt. I am not coming to work." The boss says, "You know Pedro, I really need you today. When I feel like this I go to my wife and tell her to give me sex. That makes me feel better and I can go to work. You should try that." Two hours later Pedro calls again: "Boss, I did what you said and I feel great. I'll be at work soon. You got a nice house!"
- Hey Boss, Nice House
by Gjefferson @ 7:57 PM

A small white guy goes into an elevator when he notices a huge black dude standing next to him. The big black dude looks down upon the small white guy and says, "Seven-foot tall, 350 pounds, 20-inch dick, three-pound left testicle, three-pound right testicle, Turner Brown." The small white guy faints. The big black dude picks up the small white guy and brings him to consciousness, slapping his face and shaking him, and asks the small white guy. "What's wrong?" The small white guy says, "Excuse me but what did you say?" The big black dude looks down and says, "Seven-foot tall, 350 pounds, 20-inch dick, three-pound left testicle, three-pound right ball, my name is Turner Brown." The small white guy says, "Thank God, I thought you said, 'Turn around'!"


- Deaf and Dumb
by Gjefferson @ 7:52 PM
I went to bed early one night when my husband went drinking with his friend Mark. A knock on our bedroom door woke me up and I found my husband hanging on Mark's shoulder too plastered to stand up by himself. After putting my husband to bed, I told Mark he could stay in the guestroom, since he himself looked just as wasted and it was already too late. I fell asleep again and dreamt that my husband was making love to me doggie style. I woke up very horny, but without opening my eyes, I let my husband play with my pussy from behind. I was only wearing my shirt, because he had managed to take off my shorts and underwear without waking me up. He then lifted my right leg to spread me and prepared to enter me from behind. Within five to six thrusts he was completely in me. It felt so good because I was so wet and his penis felt much, much bigger than usual. Then it dawned on me, it was too big to be my husband's penis! Shocked, I opened my eyes and in front of me, across the bed is my husband still dead-drunk asleep! It was Mark! He felt so good that I just closed my eyes again and let him ram me until I had the biggest orgasm in my life. It kept coming wave after wave that I couldn't prevent myself from moaning loudly. For about 40 minutes he gave it to me, spoon position, while fondling my breasts. My husband slept through it all, with the bed moving and me moaning. Mark climaxed and stayed there until his penis went limp inside me, he whispered in my ear "Sarap mo," then left our bedroom. To this day my husband doesn't know that his friend that I loathed gave me the biggest orgasm of my life. Now, every time Mark sees me he has a smirk on his face.
- Better than Scorpio nights
by Gjefferson @ 7:47 PM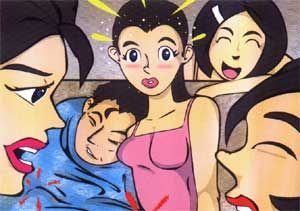 After celebrating my debut in a hotel, we got a package with free overnight stay in a junior suite in the hotel. Thinking that it was a great idea to be together after my debut, my friends chipped in for another room. I was exhausted and so was my boyfriend (who my parents didn't know about). One room was filled with about 20 people and after standing for hours, my boyfriend and I just wanted to lie down. The others were afraid to go to the other room because my mother was there. But me, my boyfriend and five of my girl friends transferred to her room. We pulled out the sofa and the seven of us stayed there with only one blanket for us. My girl friends and I are chatting away, while my boyfriend feigned sleep. Little did they know that underneath the blanket, I was giving my boyfriend a handjob while he was finger-fucking my pussy. I was so turned on because I was trying to talk normally though I wanted to explode. My boyfriend was trying to look asleep, but I could secretly hear him moaning a little. When we were done, I fell asleep, leaving my friends still talking. After a while I woke up because my boyfriend was shaking me. He whispered to me that he was so turned on, he wanted me to give him a blowjob right there with five of my friends just beside me and my mother on the bed. Still too tired to argue, I just gave him the best blow job I could. Since I didn't know where to put his come, I just drunk it up to the last drop. After that, I had just enough energy to turn my back to him and fall asleep again.
- Debutante Pleasures BF
by Gjefferson @ 7:38 PM
My guy and I parked in the CCP grounds for some quiet bonding moments in the car. But soon we got bored with small talk so we found ourselves talking about sex instead. I teased him about his package and told him that if he'd let me hold it, I'd jerk it off and make him come right there and then. The tease turned into a dare and so I did it. I didn't stop even if a car came and parked beside us (and I think there was a guy in the distance who could see what we were doing). It was hot. But this one's even hotter: Driving home, he began to rub me good down south that I was a wet panting kitty in no time at all. We came at a stoplight and still he went at it. Worse, his car aircon broke down so we had to unroll the windows. And all that time, his fingers were working me-at a stoplight, with the windows down, and with a jeepload of passengers right beside us! I've got to hand it to my baby, he surprises me every time
- Hot Lady Hands it to its Guy
by Gjefferson @ 7:22 PM
Friday, October 15, 2004
Heloo GuyS!!! this montht is the most exciting month for beer lovers.. sadly i haven't attended much party for this month. did you know that some octoberfest party gives free beer!! but sometimes it cost 5 pesos!!! but that's ok!!! for 50 bucks you'll have 10 beers!!! i think that's more than enough!!! solve solve n un!! d b??!! so fellas have fun this month!! Bring along your girl-friends that u wanna BANG!!! hehe!! just kidding!! BUt guys i just like to remind you that not all party for october are free!!! some maybe more expensive than before only the sponsored or announced parties have cheap or free beers!!!
Nway here are some pictures from a concert i attended earlier this month..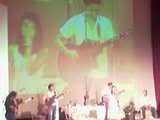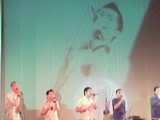 mymp and akafellas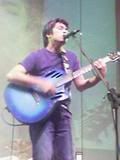 nyoy
- OctoberFest
by Gjefferson @ 4:17 AM
Tuesday, October 12, 2004
He stood undecidedly before the glass window, surveying the various
food-flavored lotions and shower gels, shifting his weight from one
foot to theother. He had always hated shopping. But he had to.He
knew Natalie would kill him (and probably glory in it) if he ever
went to her without a gift. She actually sent him off on this errand
specifically.
"Go na, hon, and buy a gift." She waved him away imperiously, even
before he crossed the threshold ofher garage. "Mamaya, it'll be too
traffic na and you might be late."
"Okay," he sighed, bussing her forehead. "What do you want ba?"
"Basta get me something that would be for me lang ha?" She smiled
greedily, "Not for both of us."
"Fine," he said, and giving her one last hug, went back into his car
to go to the mall. Two minutes later, he received a text from her.
Ups, sori,hapi vday pla J!
He chuckled now as he thought of the love of his life. He knew Nat
since way back but only realized he loved her a few years ago. Which
was really stupid of him since he couldn't imagine life without her.
Deciding against the raspberry bath confetti he picked up at the
counter, he put the glass tube down and went out of the store. She
probably had one already.
Walking randomly, he passed a video store and thought of buying her
the extended version of her favorite film: The Lord of the Rings. He
knew the movie quite well, remembering the first time they watched
it. She was burrowed in his arms while she swooned over the male
leads (whom he privately thought were a bunch of fairies). It was
after watching that movie when she confided his friend Ron had been
making moves on her.
"Well, you're pretty kasi eh. Does he bother you ba?" he had asked,
just a teeny bit concerned but making a mental note to talk to Ron
if she said he was making a nuisance of himself.
She shook her head, looking pensive. "No, it's fine." Then she
smiled brightly at him. "Carry ko
naman eh, me pa?" So he decided not to talk to Ron.
Suddenly remembering his buddy, he picked up a T2 dvd (Ron's all
time favorite film) and paid for it. He was out of the store when he
realized he hadn't bought Natalie anything. He shrugged and decided
to have a look around first. If he couldn't find anything special,
he'll just come back for pansy Legolas.
He sighed again, looking at a vast array of jewelry. The rings
would look really good on her small hands. But then Natalie isn't
really fond of jewelry. Being quite accident prone, she either lost
them or got cut by them, and he wasn't going to risk it. Besides, he
thought that the ring she'd be wearing soon would be quite enough.
Running his hand briskly through his hair, he frowned at the shop
windows. It's hard enough for a guy to find the perfect gift, but
for such a special lady. He knew what he wanted to find. Something
that would tell her how much he loved her BUT without being mushy.
Natalie hated mush.
"Ickle, Jake, you know I hate 'prom' music." She grimaced as she
furiously jab bed at the buttons of his cd player. "Don't you have
real music here?" She flipped through his cd case in disgust. "When
I get married, I'll have head-banging music. And anybody who
requests for anything 'senti' can go plan their own wedding!" He
just smiled and nodded. He was quite prepared to let her do whatever
she wanted.
It was when he decided to take a breather when the idea finally hit
him. He sprinted over to Starbucks and looked at the thermos
collection. Being coffee addicts, he and Natalie frequented the café
and once, she pointed at the small silver flask they had on sale.
"Dream ko yan." She sighed.
"What? The thermos?" He asked, puzzled.
"Yeah."
"Then why don't you buy one?"
"Kasi, it has to be given. You know, I have this romantic dream.
That before I go to work in the morning, just when I'm about to step
in the car ha, my Prince Charming will come over from the shadows
outside our house and he'll give me a thermos full of café __mocha
to take to the office. Di ba romantic?" She gazed dreamily at the
silver flask. "Basta I'll marry the guy who does that."
He picked up the silver thermos and approached the lady at the
counter with his request. Fifteen minutes later, he was driving
along the highway to meet her but the traffic jam was horrendous.
She had texted him twice already. Wru na? Ur l8. Grrr. He texted her
back. Sori hon. I'l follow nlng s hotel. C u!
Later when he was walking up the staircase to the restaurant where
she was waiting, he wondered whether he intentionally tried to be
late. Holding his gift so tightly, he told himself that it's too
late to have cold feet.
Then he saw her and felt the butterflies in his stomach morph into
dragons. She's so beautiful in that white dress.
"I'm going to look like Galadriel," she had told him after she
shopped for her dress.
"You'd give Cate Blanchett a run for her money." He answered fondly.
And she did. He walked slowly towards her until she looked up and
saw him. Her face lit up in a lovely smile.
"Jake! Hay, I thought you'd never come eh. I'll never speak to you
again if you stood me up today of all days."
"I had trouble finding you the perfect gift eh. O, eto na." He
handed her the flask.
"Oh," she said, staring at the thermos in her hands. "Oh." She
looked up at him, blinking back tears. "I don't know what to say."
"No need," he whispered, brushing his fingers against her
cheek. "Basta be happy ha?"
She nodded. Then she turned and beckoned to Ron.
"Darling, Jake is here."
"Uy, pare, how come you weren't there sa church? I had to drag a
cousin to be my best man tuloy." Ron grinned at him, throwing an
arm around his bride.
"Sorry, pare, super ang traffic." Then Jake shook his friend's hand.
"Congrats. I'm happy for you. Take care of Nat ha?" Take care of her
for me.
- blah blah blah!!
by Gjefferson @ 8:35 AM
Thursday, September 30, 2004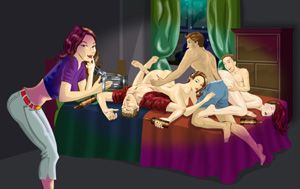 At a bar, I saw an old guy friend I had not seen for awhile. He was badly drunk and gave me some alcohol-laced talk. He invited me to hang out at his place for more drinks. I brought along my two girl friends and their respective boyfriends. Amazingly, all that time I was displaying myself at the bar I had not treated myself to a drink. So it was quite natural that while I was just beginning to get a buzz over at my friend's place, the rest of them were smashed beyond belief. Our host had actually passed out right in front of us. But the two couples were also having a steamy petting session going on. On a whim, I dared them to let my sleeping friend join in on their fun. What they did was more than what I asked for! They fucked each other, together, and the man on the bed-who, despite the hot pleasure he was getting, was asleep through it all! Even I had a hard time telling who was sucking who, or whose cock was pounding someone's pussy or ass. And where was I during the entire proceedings? I was recording and directing The Orgy of the Year on videocam. The tape is still with me and I plan to keep it for the rest of my life.
- Sober One Whips Out Videocam
by Gjefferson @ 1:45 AM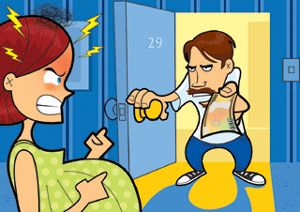 His wife being eight months pregnant, poor husband has had to sleep on the floor and this had made him desperate for sex. One night as she lay on the bed, she glances at him and sees the poor guy curled up on the floor, eyes staring widely into the empty air. Feeling sorry for her husband, she takes her wallet and fishes out P500 and gives it to him. "Here, take this and go to the woman next door, and she will let you sleep with her tonight. But remember that this happens only once, okay? Don't ask me to do this again." The husband rolls his eyes in disbelief, but afraid that she might change her mind, grabs the money, and leaves quickly. A few minutes later, he returns, hands the bill back to the wife, and says with much disappointment, "She said this is not enough, she wants P600." The wife's face slowly turns red with anger. "Damn that bitch! When she was pregnant and her husband came over here, I only charged him P500!"
- Considerate Missus
by Gjefferson @ 1:39 AM
Thursday, September 16, 2004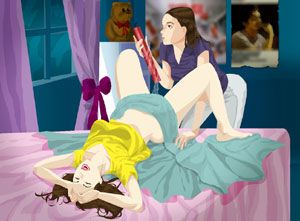 I was supposed to go out with my friend one Sunday but she decided to cancel. I rushed to her apartment to confront her because we had made important plans. My plan was just to barge in unannounced since I knew where she hid her spare key. Swinging the door open, was I surprised with what I saw: my friend had a candle sticking out of her pussy! When she saw me she just cried in embarrassment. She confessed she had been masturbating with that candle because it was the only thing around that could approximate her boyfriend's dick. Oh, and she was also crying because her vaginal muscles had locked around the wax-dick so I had to help her pull it out. Instead of writhing in pain, she was actually quite pleasured as I was slowly ridding her of the candle. Not one to be outdone, I diddled with my clit myself as soon as I was home.
- Candlesticks Lights Up COED's Night
by Gjefferson @ 1:59 AM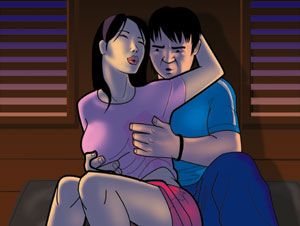 I managed to become close with my girlfriend's very hot best friend. She was tall and pretty. She had a cute ass and the biggest boobs I had ever seen on a girl next door. One night during a drinking bout I found myself making out with her. I was drunk but I very well knew what was happening, and I couldn't believe my luck! I was practically breathless as I grabbed her breasts when I felt there was something terribly wrong. It was soft. Too soft. I groped and then-splat!-her shirt was suddenly all wet! Then I found out why she had divine boobs. They were fucking water bags! But the most horrific realization was what the water bags hid-breasts no bigger than lumps! It was like I had made love to a man! When I saw the truth, I stood up, said I was too drunk to fuck, and walked out.
- Well-Stacked Chick Dissapoints
by Gjefferson @ 1:50 AM
Four nuns die and end up at the gates of heaven. There they see Saint Peter and a fountain beside him. Out of curiosity, they ask him what the fountain is for. "Ah, well as you can see each one of you committed one last sin before dying. So before you can enter heaven, you must first cleanse yourself of sin in this fountain." So the first nun goes to Saint Peter and confesses her sin. "There was a cute priest in our parish and I couldn't help but peep at him every time he took a bath." Saint Peter replies, "So wash your eyes there and you may enter heaven." The second confesses as well. "I was also so obsessed with that priest that I always touched his 'manhood' every time he took a bath." "Wash your hands and you may enter heaven," Saint Peter says. The third nun approaches, but the fourth cuts her off. "Why in such a hurry?" Saint Peter asks. The fourth nun nonchalantly replies, "Sorry, but can you please let me gargle first on that fountain before she swims in there?"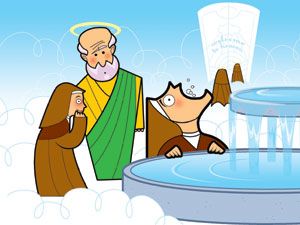 - Sisters In Sin!!
by Gjefferson @ 1:02 AM